Challenges
Statsols work with the world's largest pharma companies, keeping an open dialogue to ensure we always meet their unique and specific requirements. One of our clients came to us with a specific problem.
Researchers for a top 5 pharma company needed to calculate sample size for a new study that involved a primary end-point with an over-dispersed count variable. There are many different therapeutic area's that have over-dispersed count variables as primary or secondary endpoints; such as:
Number of relapses (multiple sclerosis, epilepsy, gout),
Number of exacerbations (asthma, COPD, etc.);
Number of MRI lesions (multiple sclerosis).
This required sample size determination functionality that the company could not could not be successfully coded in SAS. However, this was also not available within nQuery at that time.


Solution
Researchers decided to ask our nQuery statisticians if it is possible to develop functionality for Two Negative Binomial Rates, so that they could accurately calculate a valid sample size for their study.
In requesting this functionality, our customer wanted to achieve a number of goals:
The functionality needed to be developed quickly and rolled out to all their users

Eliminate the requirement for in-house SAS/R coding

Access to a validated technique from a proven supplier

No training necessary as users already proficient with the nQuery sample size software as their sample size calculator
Our dedicated nQuery statisticians worked closely with the clients statisticians and researchers to deliver this fully validated feature in nQuery and successfully roll it out to their users.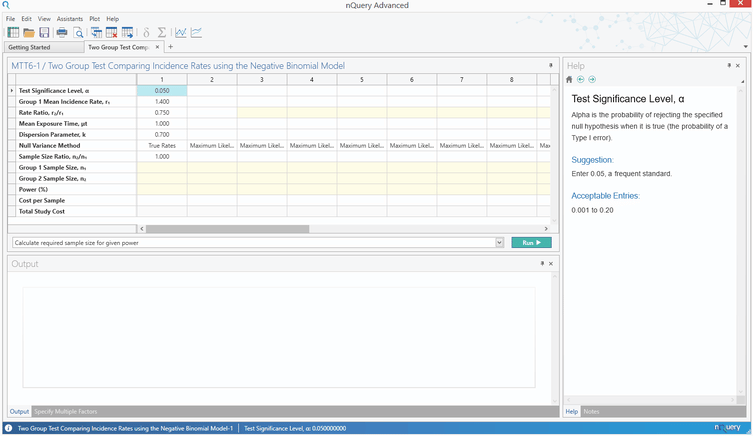 Benefits
Successful Roll Out For Custom Feature Request
We worked closely with the Pharmaceutical Company to deliver this fully validated feature. The client was extremely satisfied with the additional functionality in nQuery.



Rapid D

evelopment Time
Our agile team of developers and statisticians were able to deliver this added functionality to the users in as little as two months.


Success Shared with other nQuery Users
This negative-binomial feature was also made available to all nQuery users to aid their difficult trial design calculations